President wanted to speak without filter of 'dishonest media'

Runs through greatest hits of 2016 promises, 2017 actions
President Donald Trump held a campaign-style rally in Florida less than a month after taking office, seeking — and receiving — validation from his most fervent supporters days after national security adviser Michael Flynn's forced resignation put a spotlight on dysfunction in the new administration.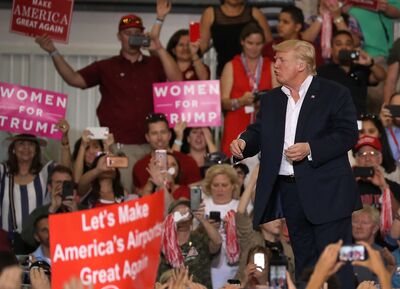 "Life is a campaign," the president told reporters on Air Force One en route to the event, vowing a tone of "unity" with one exception. It quickly became clear the exception was the news media, whom the president excoriated before and during the rally, and on Friday described as "the enemy of the American people."
"I want to speak to you without the filter of the fake news," Trump, 70, told thousands assembled at a hangar at the Orlando Melbourne International Airport. He rallied at the same airport in September after his first general-election debate against Democrat Hillary Clinton.
Trump and wife Melania arrived and descended the stairs on Air Force One before walking together to a podium. Melania Trump wore a red sleeveless sun-dress, and opened the event by reciting the Lord's Prayer. The president was dressed in a suit and open-necked shirt with no tie.
Read more: A Q&A explainer on Trump and the fake news debate
In a rambling 45-minute speech that picked up the themes of Thursday's White House press conference, the president ran through the actions taken by his administration so far — his negotiating efforts on the F-35 fighter jet, plans for new oil pipelines and efforts to roll back regulations. He revived some of the popular 2016 catchphrases, including "Drain the Swamp." At least one "Hillary for Prison" sign was spotted in the crowd.
Global Elite
Trump also resumed his criticism of the "global elite," although his administration has placed several billionaires and multimillionaires in Cabinet positions and other top jobs, including a number of former officials from Goldman Sachs Group Inc.
Rally attendee Laura Corwin, 54, of Palm Bay, Florida, said she came to support the president. "It's been a rough week but no matter what every American should support our president whether they voted for him or not," she said.
Trump is on the "right track," Corwin said — a view that currently puts her in the minority nationwide. The latest daily Gallup poll shows 55 percent of Americans disapprove of Trump's job performance, against 40 percent who approve.
The Melbourne rally site is a quick flight from Trump's Mar-a-Lago resort in Palm Beach, where the president is spending his third straight weekend. While the next presidential election isn't until 2020, Trump, upon taking office in January, filed campaign paperwork to allow continued fundraising well before he formally announces his intentions.
Trump promoted the rally at Thursday's White House event. "The media is trying to attack our administration" but "a lot of people are happy" with things, he said, describing his administration as "running like a fine-tuned machine."